Scrum Master vs. Project Manager – Let's Discuss
A Scrum Master is more focused on coaching Scrum Team to implement Scrum principles, while Project Manager plays a leadership role for timely project completion.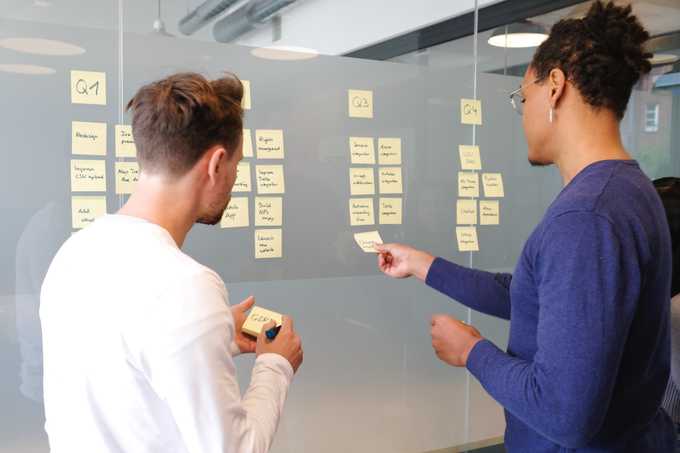 Both Scrum Master and Project Manager role seems to be the same, i.e., to manage the team, but they are not synonyms of each other. They both are distinct and have plenty of differences. On a bigger picture, consider the Project Manager as a leader who plans the execution of the project. On the other hand, consider Scrum Master as a supporter who works closely with the Scrum team and remains focused to implement Scrum principles effectively. In this article, we will conduct a comprehensive talk around Scrum Master vs. Project Manager and cover different aspects to help you clear your doubts around both these roles.
Scrum Master – Brief Overview
In simple words, Scrum Master is an individual master of Scrum and is responsible for ensuring that the Scrum team follows Scrum principles. However, he/she also remains open and flexible to ensure that team workflow remains efficient and productive. The Scrum Master works closely with all the members of the team in order to guide, support, and coach them about the Scrum framework. In short, Scrum Master acts as a coach for the rest of the team.
Key Responsibilities of a Scrum Master
Some of the key responsibilities of a Scrum Master include:
Ensure that team members understand Agile processes and are well trained to execute them.
Ensure that every team member knows his/her role, has a clear view of project ownership, follows processes, and is capable of self-management.
Host daily stand-up meetings that should not last beyond 15 minutes and let members answer what have been done yesterday, what to do today, and what is hindering the progress.
Facilitate product owner with the creation and maintenance of product backlog.
Remove distraction elements to help keep the team focused on the main task.
Prioritize key features of the product and focus on delivering the minimum viable product (MVP).
Makes it easy and smooth for new employees to get familiar with Scrum practices.
Keep all product stakeholders updated and on track.
Project Manager – Brief Overview
A Project Manager is an individual that organizes a team in order to ensure that the projects are delivered as per the schedule and within budget. The project manager often leads the meeting, manages the budget, creates schedules, manages risk, and remains continuously in touch with the team and key stakeholders. A project manager can be managing multiple teams at a time.
Key Responsibilities of a Project Manager
Project Manager is seen in all kinds of industries, so it is a broad term. Some of the key responsibilities of a Project Manager include:
Define the scope of the project with the team and stakeholders.
Plan the project activities.
Prepare the budget of the project and get its approval.
Assign responsibilities to all the team members, while ensuring that the responsibilities are relevant to their skills and expertise.
Keep in touch with the stakeholders and keep them up-to-date with the progress.
Lead project-related meetings.
Track the progress of the project continuously.
Monitor and address project-related risks and other unexpected situations.
Ensure timely delivery of the project within budget.
A Project Manager works on a day-to-day basis and ensures that the project is on-track and that team members are fulfilling their responsibilities effectively.
Scrum Master vs. Project Manager
Now that we know what Scrum Master and Project Manager are all about along with their key responsibilities, it's time to focus on the elements that makes them two different entities.
You might have realized that the Scrum Master role is more oriented around his/her team to ensure maximum valuable product. However, a Project Manager role comes with more control with the involvement of various teams and plenty of other activities depending on the complexity of the project.
Key Differences Between Scrum Master & Project Manager
Based on the role Scrum Master and Project Manager plays, the following are some of the key differences between them:
1. Project Capabilities
A Scrum Master is meant to serve in those projects that are based on Agile. This means Scrum Master skills are exclusive to Scrum-related projects and Scrum teams. On the other hand, a Project Manager is a universal role found in almost all industries. So, it works effectively both in Agile and waterfall project development models.
2. Focus
The focus of a Scrum Master is to ensure that the project team is successful and adheres to Scrum principles. All the efforts of a Scrum Master revolve around the Scrum team and Product Owner. For example, the Scrum Master works with the Product Owner to create product backlog and then conducts product backlog estimation sessions mostly using techniques like Planning Poker, Async Poker, Affinity Mapping, T-Shirt Sizing, etc. Afterward, sprint planning, sprint reviews, and all other similar activities are all meant to make sure that the team follows the Scrum framework and ensure timely deliveries.
Contrary to Scrum Master, a Project Manager focuses on the project as a whole. He/she creates project plan, manage logistics, manage team, address risk, communicate with stakeholders, and do all other activities needed for timely project completion within budget. In short, Project Manager is an all-in-one comprehensive management role.
3. Team Size
A Scrum Master works with a small Scrum team, while the list of key stakeholders is also limited. On the other hand, the Project Manager often handles a large team or multiple teams, along with a large list of key stakeholders.
4. Meetings
Scrum Master conducts daily Scrum meetings (Stand-up sessions), schedules product backlog estimation sessions, carries out sprint planning meetings, conducts sprint reviews, etc. On the other hand, a Project Manager sets up a proper meeting calendar in which the frequency of the meetings is all well set and planned. Moreover, since the Project Manager doesn't have to follow specific rules or methodologies, the frequency and nature of meetings are customized based on the project needs.
5. Industry Specific
Scrum framework is widely used in the software industry, but it is getting more engagement in other industrial sectors as well. Currently, the demand for Scrum Master is more in the IT or relevant industry. While if we talk about Project Manager, it is demanded everywhere. There is no specific industry where Project Manager is called only. It is a job position that must be filled during the execution of any new project.
6. Contribution
Scrum Master's contribution is mostly around quality management, resource management, and scope management. Anything that is associated with quality and team performance is where Scrum Master plays a key role. On the other hand, the Project Manager contributes in all the areas of project management. Whether it is project scope, assigning responsibilities, managing budget, and similar other elements, the Project Manager has an influence in all those areas.
7. Skills and Certification
Since the jobs of both Project Manager and Scrum Master are different, they need different skills and certifications. Scrum Masters usually tend to get certifications like Certified ScrumMaster (CSM) and Professional Scrum Master (PSM 1) certification that are administered by the Scrum Alliance and Scrum.org respectively. On the other hand, Project Managers tend to get certifications like Project Management Professional (PMP), Certified Associated in Project Management (CAPM) administered by the Project Management Institute (PMI).
8. Salaries
Other than differences in their roles, there are also some variations in their salaries. The role of Project Manager seems a lot more sophisticated compared to Scrum Master, but the salary figure narrates the other story. On average, it is seen that Scrum Master gets paid more compared to Project Manager. One of the reasons behind this is that Scrum Master is a more specialized role, requiring proper grip and experience in the Scrum framework. Therefore, organizations tend to pay a bit higher to Scrum Masters compared to traditional Project Managers.
Key Similarities Between Scrum Master & Project Manager
Scrum Master and Project Manager are not entirely different. Since they both are involved in managing their teams, they do come with some similarities. The following are the key similarities between Scrum Master and Project Manager:
1. Communication
Scrum Master and Project Manager are required to be exceptional in their communication skills. They should be accessible to the team members all the time and ensure a friendly communication environment. Similarly, they should keep the stakeholders up-to-date with the progress and address their concerns timely.
2. Leadership
Scrum Master and Project Manager both need leadership skills, but the form of leadership is a bit different. Scrum Master is required to lead and manage the implementation of Scrum Framework and the overall organization's progress around agility. On the other hand, Project Manager needs exceptional leadership skills, as he/she has to lead the team, orient and manage projects, engage with stakeholders, address bottlenecks, and ensure timely deliveries no matter the complications.
3. Inputs
Both Scrum Master and Project Manager are not the supreme authority of the project. A Scrum Master has to report to the Product Owner and other stakeholders, while a Project Manager has to report to the client and other stakeholders.
4. Experience
In order to play the role of a Scrum Master or Project Manager, there is a need for years of experience, top-notch skills, and relevant educational background.
5. Organized
The job requirement of both Scrum Master and Project Manager urges them to be well-organized individuals. If they have an organized and balanced work life, then it has fruitful impacts on their team's performance as well.
6. Engagement
Scrum Master engages with the team to act as a facilitator and coach, while the Project Manager engages with the team to address conflicts and issues.
7. Adhere to Quality
Scrum Master and Project Manager both ensure that they deliver quality products, fulfilling the core quality requirements expected by the stakeholders.
8. Improve Team's Performance
Both Scrum Master and Project Manager continuously monitors the team's performance and looks for ways to improve the performance.
Scrum Master & Project Manager – Which Role is Better?
Scrum Master and Project Manager have their own set of duties and responsibilities to fulfill, so they differ in many areas. However, since their core job is to manage the project, they do overlap in many areas as well. Here the question is which role is better?
It mainly depends on the project which role best suits the situation. For an organization that is practicing Agile methodology and involves the Product Owner, development team, iterative delivery cycles, and similar other Agile elements, then Scrum Master fits perfectly. On the other hand, for organizations that are executing their projects based on the traditional waterfall model, then the project manager role best suits the situation. However, if an organization is in the transition phase from the traditional waterfall model to the Agile model, then either Scrum Master or Project Manager suits the situation.